James Calver made two beautiful signs for EAA Chapter 27
Chapter Headquarters at EAA AirVenture Oshkosh is the "Blue Barn" located near the forums and homebuilt parking. Outside there are signposts with signs pointing to EAA Chapters along with their distance from Oshkosh.
At AirVenture 2022 Mark Scott noticed that we didn't have a sign and asked for a volunteer to make one. James Calver stepped up to the challenge and made a beautiful sign carved out of mahogany and ash which he presented to the Chapter at the November meeting. Arrangements will be made to get it placed on a signpost for the next AirVenture.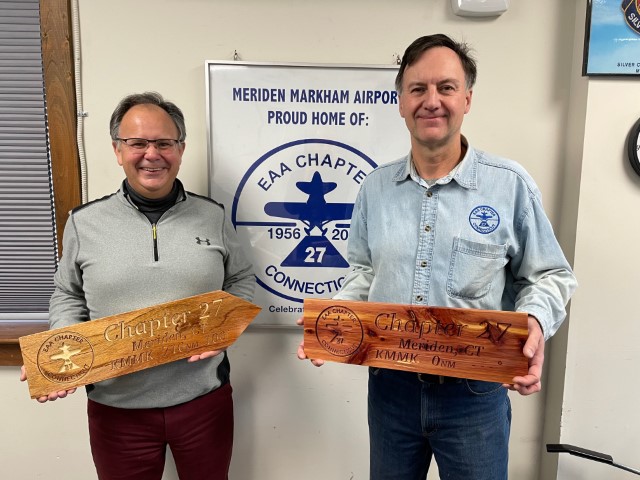 James Calver and Mark Scott
If that wasn't enough, he also turned out another non-pointing sign made out of red cedar which will get a place of honor on the wall in the KMMK FBO building. In other words, it's the target that the arrow is pointing to.
Many thanks to James for a job well done!